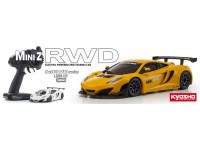 The best RC cars
The range of radio controlled cars is very wide and it is not easy to know which are the best models. CarrocitosRC is a team of model car enthusiasts that selects for you the best performing miniature cars with the best quality/price ratio. All the most prestigious brands in the world of modeling are for sale in our store such as Kyosho ...

For speed and asphalt enthusiasts, we offer fast track or drifting RC cars and, for those who want to go off the beaten track, monstrous waterproof vehicles capable of driving on all terrains and in all weather conditions. Off-roading offers a wide range of electric cars such as Monster Trucks with huge wheels, Crawlers for climbing or Short Course and Buggies for dirt tracks. Some brands like HPI offer very realistic models that can be driven electrically through radio control.
Find the best RC cars on the market, from 1/8 scale to Mini Z and 1/24 microscales
We want to welcome you to the exciting world of radio controlled cars. From RC Cars we offer you a wide variety of remote-controlled cars, in addition to the best offers in our outlet area. Get ready to find everything you need for your rc car. From spare parts, wheels, engines, gasoline, fluids and accessories for maintenance, conditioning or repair.
This is just a sample of all the types of vehicles that we have on our website. Where you will also find different electric cars like crawler, 4x4. buggy or off-road. In addition to all kinds of radio frequency vehicles such as ships and boats, planes and helicopters, even all kinds of drones.
What can you find in our RC Cars section?
RC cars:
We offer you the best range of radio-controlled cars on the market. Here you can find all kinds of electric cars, gasoline cars, kits, motorcycles and microcars. In addition to our specialized section in Kyosho , so you can find your perfect car.
From RC Cars we work with the best brands in the radio control world. For this reason, we offer you a wide assortment of Kyosho , Hobbytech, Funtek , Axil and Serpent spare parts. Everything to tune up your 4wd crawler car, rtr buggy or 1:10 scale car.
We have a section with everything related to electronics for your rc car. From batteries and batteries, chargers, transmitters, servos, horn and arms, wiring and connectors, scales, and wireless helmets.
Get ready to be amazed with our section of wheels for electric cars. At RC Buggies we have selected the Top on the market, 1:8 scale wheels, 1:10 scale wheels, Mini-Z wheels and wheel warmers. Everything you need so that your 4x4 crawler, rtr buggy or 4wd car does not stop running.
In RC Cars we offer the best options of thermal and electric motors, in addition to all the accessories so that they are always at their highest level of quality. All our models offer high power for any of your radio controlled vehicles, whether it is a 4x4 RTR, RTR buggy, 4wd crawler, microcar or motorcycle.
We like to have our rc cars always ready and with the best bodywork. For this, we present a section where you will find rc gasoline, silicone oils, cleaners and adhesives, and a wide assortment of body paints.
If your goal is to complete your radio control car with some quality accessories, in this section you will find everything you may need to make your rc car strong and durable. To do this, we offer you model car tools and hardware, thermometers, starting material, bearings and calibration washers, bodies, spoilers and transport accessories.
What is better a gasoline or electric RC?
We usually recommend the electric models for beginners, and the nitro or gas models for those with a little more experience, or a desire to tune up the engine and learn more about the mechanics.
How long does a remote control car battery last?
RC car batteries last between one and two hours before needing to be recharged. However, RC batteries should last up to three to six months. RC car batteries die quickly because the RC car motors constantly feed the batteries at high speed.
What fuel do remote control cars use?
Racing engines use nitrofuel, a methanol-based fuel with nitromethane and oil added. The amount of nitromethane in the fuel is usually 20%, but can be 10% to 40% or more. Synthetic oil is added to the fuel to provide lubrication and cooling.
How long does the LiPo battery last?
LiPo batteries do not have an expiration date, but can see reduced performance after excessive use or the passage of time. at 18 months
2WD or 4WD?
Typically, all-wheel drive cars are more expensive but offer a better drive. However, 2WD vehicles are typically more durable, easier to maintain (since they have fewer moving parts), and have a longer run time.
Electric, nitro or gasoline?
Go electric unless you want a 1/5 scale car (in which case, gas is a viable option). Nitro cars have too many drawbacks that outweigh their pros, unless you're a true nitro enthusiast.
Brushed or brushless?
This refers to the type of engine. In short, brushless motors are superior to brushed motors in every way apart from cost.
Brushless motors:


They are more efficient
They are more powerful
They require less maintenance

If you want to go fast and can afford a little more, go for brushless motors when you buy the car, as upgrading from a brushed car to a brushless one can get expensive.
How fast are they going?
The maximum speed of each model is indicated in the description. However, this is more or less what you should expect.


Beginner - about 20-40 km/h
Intermediate - around 40-70kph
Expert: around 70+kph
I will buy for a gift
Things to keep in mind:

These are some of the things you should keep in mind when buying an RC car for someone else.

Where are they going to drive it?
If they live on a farm, for example, they may want to drive it in the meadow or long grass, so you should look for an RC truck with big wheels.
Have you had an RC car before?
If so, they may want something better or different than what they currently have.
If not, it is best to buy a beginner RC car.
Tip: Unless you have specifically asked or expressed an interest in road RC cars, ATVs are a safer bet as they are more versatile being able to drive on and off road.
Are they durable?
RC cars take a lot of jumping, tipping, crashing, and sometimes even abuse without a problem. However, no matter how tough the RC car is, it's a matter of when it will break, not if it will break. That's why parts support is essential: we stock parts for every car we sell, so you can buy your RC car with the confidence that we'll have your back when you crash into that tree that came out of nowhere.

The answer to this question is very subjective, since it is difficult to measure the "durability" of an RC car.
Are they waterproof?
Electric: Most electric cars are waterproof*, you just have to check it in the description of the car you are looking at.

Fuel: As all fuel engines need air to run, there are no truly "waterproof" fuel powered RC cars, however, there are some that have waterproof electronics that essentially make the car "waterproof". splash" - never immerse an RC car in fuel.

*Note: If you ride in water (especially salt water) make sure to clean it well. Driving in wet conditions will increase wear on components such as bearings, tires (they can fill with water and overload the electrical system and damage foam inserts), and various metal parts. Even if your car electronics are waterproof, you'd better stay away from water.