Mini-Z RWD Audi R8 LMS Driving Experience 2010 (W-MM/KT531P)
Mini-Z RWD McLAREN F1 GTR No.51 LM 1995 (W-MM/KT531P)
Enhace your product with:
 Add 4 rechargable batteries + Speedhouse Charger
 Add 6 rechargable batteríes + Speedhouse Charger
 Añade bolsa de transporte
 Add Mini Z lights
 Accesories
RWD chassis with new transmitter combination launches new series to follow MR-03
Using just 8 x AAA batteries, the MINI-Z Racer lets anyone enjoy the handsome styling and advanced performance of R/C cars. First released in 2013, Kyosho has revamped the MINI-Z Racer Sports MR-03 concept for make it even more user-friendly and appealing to more drivers with the MINI-Z RWD series.
Widely popular body styles in highly detailed body sets create the incredibly realistic model lineup. Including the latest Syncro KT-531P transmitter with steering adjustment, throttle adjustment, dual speed , LED control function, sponge steering wheel that provides a comfortable fit for a precision control feel.
The set also includes a finished car body to show the real thing that combines impressive styling with the performance, reliability and durability of the MR-03 chassis. The new control program on the newly designed circuit board meets the linear driving characteristics and can be further enhanced for even easier control by installing the optional gyroscope unit (MZW431). This series represents the perfect package for a deep dive into the amazing world of R/C cars!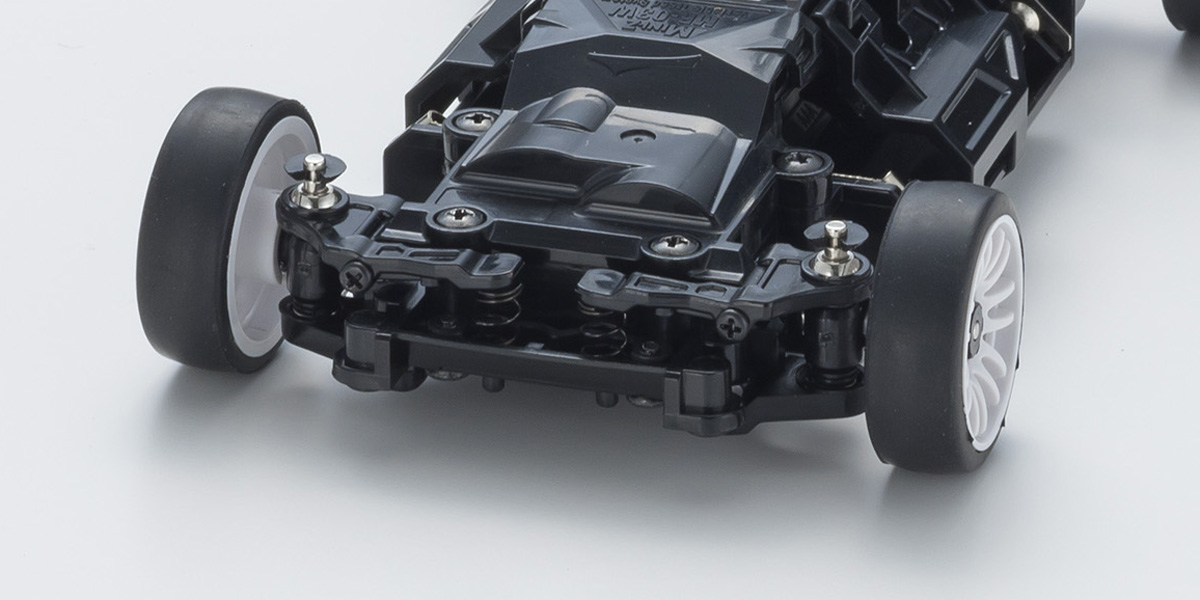 * The Syncro KT-531P transmitter uses FHSS 2.4GHz and is not compatible with existing ASF / MHS / FHS 2.4GHz systems.
● The new series includes the new Syncro KT-531P transmitter with multiple configuration options.
● New circuit board with newly developed control program achieves dramatically improved steering feel.
● Highly detailed bodywork is completely factory finished.
● Compatible with all MINI-Z Racer body styles. ** Motor case and differential gear assembly to fit body must be purchased separately.
● The front suspension incorporates VCS that optimizes the angle of inclination with the travel of the suspension.
● Compatible with the optional gyroscope unit (MZW431). The volume of the gyroscopic effect can be adjusted on the chassis. (** Settings can be adjusted from the transmitter if the KT-432PT transmitter (sold separately) is used.)
● Compatible with optional clear and red LED light unit (MZW429R).
specs
■ Length 158.0mm
■ Width 71.8mm
■ Height 44.5mm
■ Wheelbase 94.0mm (L)
■ RWD chassis (MR-03)
■ Narrow front wheel offset +1.5mm (for RWD)
■ Wide rear wheel offset + 1.5mm (for RWD)
■KT-531P Synchro R/C System
Kit Content

● Factory assembled chassis
● Pre-painted plastic body, complete with markings.
● Transmitter 2.4GHz Perfex KT-531P 2.4GHz
● Front tread adjusting parts set
● Front suspension adjusting spacers
● 6T, 7T, 8T, 9T sprockets
● Wheel spanner
● Pinion Gear Tool
● Spare nuts
● Pairing
● Tires, wheels
● Mini pylons
need to function

● AAA-size alkaline batteries x 4 or Ni-MH batteries x 4 for chassis.
● AAA size alkaline batteries x 4 for transmitter